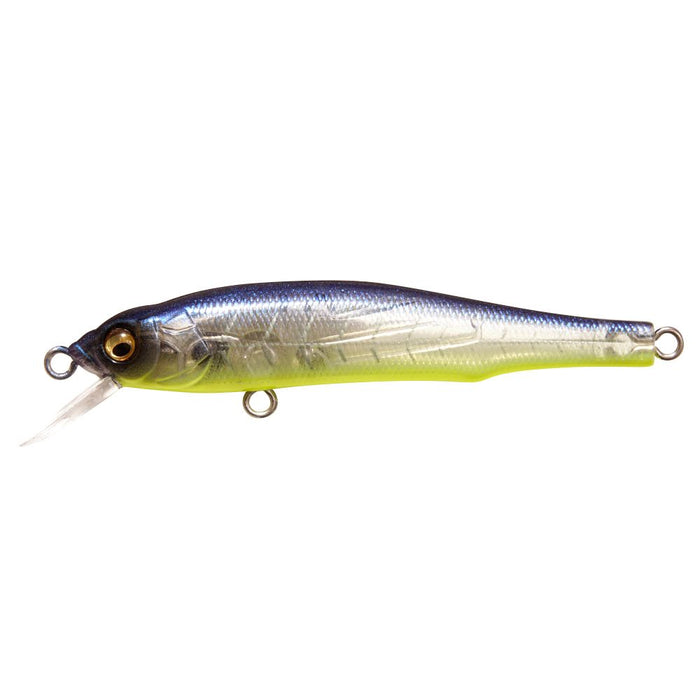 Megabass X-70 (BFS)
Original price
$14.99
-
Original price
$14.99
X-70 (BFS)
MSRP: $14.99
Length: 2-3/4in
Weight: 1/6oz
Depth: 1-2ft
Type:  Suspending
Hooks: #10
The X-70 is a juvenile minnow-style jerkbait built to dominate the shallow range with irresistibly wide side-to-side darting action. Tuned to suspend in the 1-2ft range, the X-70 is ideal for river systems, flats, shallow docks, and skinny-water areas where jerkbaits too often fear to tread. Its flat sided design enables huge flash and consistent range-keeping, even with a hard-hitting jerkbait cadence. With a simple retrieve, the body shape elicits a flickering swimming action that looks deceptively at home in its natural habitat. The suspending action of the X-70 can also be harnessed for a dead-drift & twitch presentation in current, closely mimicking injured baitfish and other forage.
Rod:
We recommend the multi-piece travel rod, TRIZA F0-63XTZ AELLO, as the ideal Bait Finesse pairing for the X-70. The AELLO's packable approach to remote locales makes it a preferred hiking companion, while the smooth-bending traditional taper enables intuitive casts and precise control.
For a more traditional one-piece offering with added backbone, we recommend the DESTROYER P5 F1-63X POPX STICK, which has a very moderate taper to impart the full range of the lure's action potential. Further, the slower action allows POPX STICK to bend deep to keep targets pinned throughout the fight.
For a modern pistol-grip pairing, we recommend the GREAT HUNTING HUNTSMAN GHBF511-4L, which is perfect for quick draw roll-casts and close-quarters twitch work. With a more supple tip than the POPX STICK, the HUNTSMAN enables finer rod work and showcases the joy of the pistol-grip platform.
Line:
We recommend a braid to fluorocarbon leader setup. Leader line diameter will affect lure action, particularly lures in which the angler is responsible for imparting action, like a walking bait or jerkbait. We have found 4-6lb leader material to be optimal for most situations.