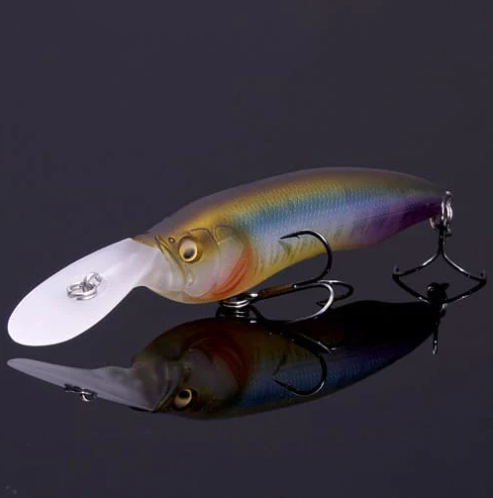 Megabass Live-X Model 1 (SP-C)
Original price
$19.99
-
Original price
$19.99
THE LIVE LEGEND HAS A SEQUEL.
LIVE-X, WHICH DEBUTED IN 1990 AS JAPAN'S FIRST DIVING MINNOW, HAS BEEN REVIVED IN THE MODERN AGE TO DELIVER A NEW GENERATION OF FISHING PERFORMANCE. A STATE-OF-THE-ART HYDRODYNAMIC BODY WITH BUILT-IN LBO II(PAT.) POWERS OUTSIZED CAST DISTANCE AND EMITS ULTRA-HIGH-SPEED FLICKERING AND LIVE ACTION FROM ULTRA-DEAD-SLOW TO ULTRA-HIGH-SPEEDS. THE MODEL 1'S PERFORMANCE IS OPTIMIZED TO TRIGGER THE PREDATORY INSTINCTS OF NEUTRAL FISH, SHOWCASING ITS "LIVE BAIT" IMPACT. THE AERODYNAMIC FORM, DEVELOPED THROUGH PAINSTAKING TESTING, ACHIEVES LONG DISTANCE CASTABILITY TO TARGET PREVIOUSLY UNREACHABLE SPOTS IN HEADWINDS AND CROSSWINDS, OUTDISTANCING CONVENTIONAL LURES OF ITS CLASS. THE MODEL 1'S ENHANCED ABILITY TO DEPLOY "CARPET BOMB" CASTING WIDER AND FARTHER AFIELD MAKES IT A DEADLY SEARCH BAIT WHEN IT'S ALL ON THE LINE.
MEDIUM-TO-SHALLOW RUNNER THAT MAKES DYNAMIC BOTTOM CONTACT FROM THE SHALLOWS TO MAX 7FT.
HIGH PITCH ROLLING-DRIVE ACTION WITH ULTRA-FAST FLICKER-FLASH
ABILITY TO PERFORM EVEN IN SHALLOW WATER
DEXTEROUSLY AVOIDS SNAGS AND TRIGGERS REACTION BITES FROM TOUGH FISH
INSTANTANEOUS ACTION
THE WEIGHT UNIT WITH BUILT-IN MICRO BEARINGS INSTANTLY GLIDES INTO PLACE AND IS FIXED BY THE NEODYMIUM MAGNETIC FIELD, ENABLING THE LURE'S ACTION TO START THE MOMENT THE RETRIEVE BEGINS.
SHAFT BALANCER SYSTEM
THE LBO II(PAT.) SYSTEM IS PLACED AT THE LURE'S ROLL-AXIS POINT, POWERING RARE RESPONSIVENESS AND HIGH PITCH ROLL ACTION WITH INTENSE AND WIDE-RANGING FLICKER-FLASH.
SEE THE MODEL 1 IN ACTION: HTTPS://MEGABASS.FISH/LIVEX