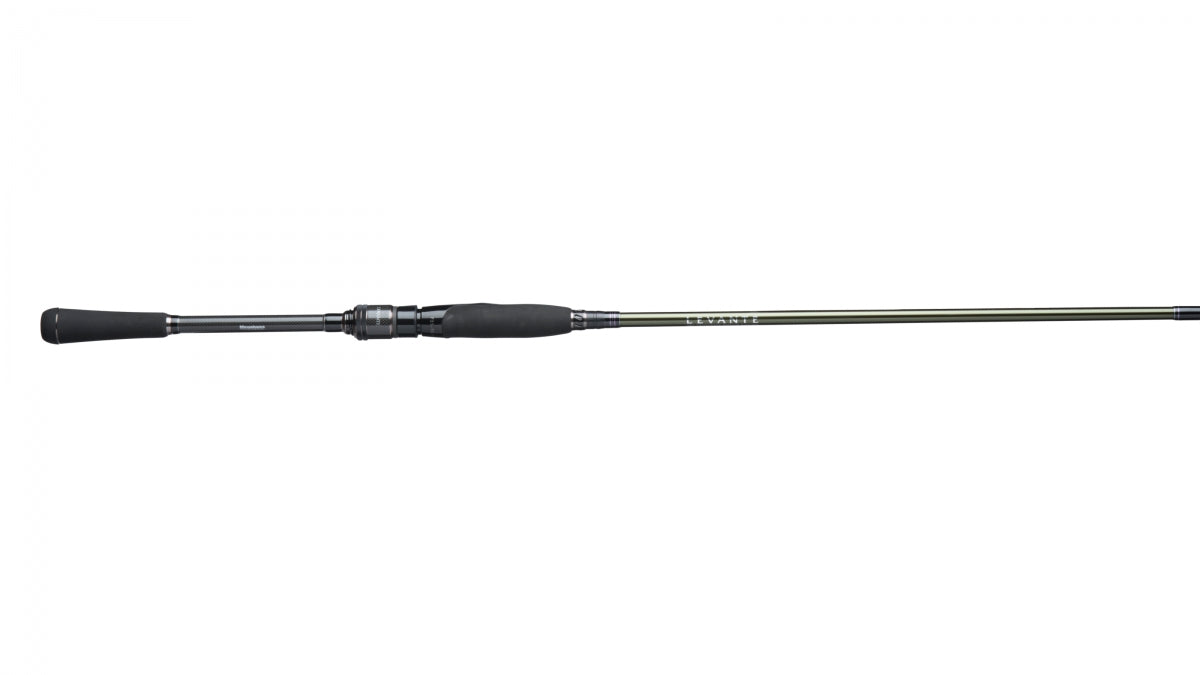 Megabass Levante Spinning Rods
Original price
$199.99
-
Original price
$199.99
Completely redesigned for 2019 and further refined in late 2020, the LEVANTE features material, blank, and component upgrades to deliver a new standard of lightweight, balanced power. 12 models cover the needs of discerning anglers, showcasing Megabass' commitment to application-specific design and development in North America. Incorporating refinements to taper, balance point, guide positioning and ergonomics, the LEVANTE evolved through countless hours of testing and invaluable dialogue between customers, pro staff, and the Megabass development team. The result is a more-perfect integration of angler and equipment, allowing for intuitive rod work, sure hooksets, and confidence-inspiring "feel". Featuring upgraded blank material, construction, and Micro Pitch Taping, each LEVANTE is now lighter, more sensitive, and more responsive. Lighter blanks allow for a refinement in balance points, bringing each model closer to its target application. Finished with Fuji® Stainless Steel Alconite guides, custom metal accents, Megabass original Spiral Architect reel seat, hook keeper, and a premium color-shifting finish, the LEVANTE is sure to delight old and new Megabass enthusiasts alike.
F3-611LVS WHIPSNAKE:  Length: 6'11" | Power: 3 (Light) | Taper: Extra-Fast | Lure Rating: 1/16oz-3/8oz | Line Rating: 5-12lb Designed for finesse presentations like dropshots and neko rigs, the LEVANTE WHIPSNAKE has the sensitivity to feel subtle changes at the end of your line, refined control to impart delicate action, and whip-quick power to unleash decisive hooksets. Extra-fast taper allows for a sensitive tip section that transitions load with silky speed, shifting the weight of the fight into the mid and butt section of the blank to maintain control. Silky-smooth load transfer along WHIPSNAKE's length maximizes the performance of light line, virtually eliminating the line breakage so often associated with unrefined tapers.
F3.5-70LVS SHAKYHEAD:  Length: 7' | Power: 3.5 (Medium-Light) | Taper: Fast | Lure Rating: 1/8oz-1/2oz | Line Rating: 5-16lb Improved material, construction and components breathe new life into the LEVANTE SHAKYHEAD, unlocking greater potential in an already-popular blank. SHAKYHEAD features more power and a slower taper than its WHIPSNAKE sibling, resulting in the most versatile spinning model in the Levante lineup. Perfect for shaky heads, wacky rigs, finesse swimbaits, no-sinker, and finesse applications around grass and structure, SHAKYHEAD is the rod to turn to for your power-finesse applications. 
F4.5-74LVS ENFORCER:  Length: 7'4" | Power: 4.5 (Medium) | Taper: Fast | Lure Rating: 1/4oz-5/8oz | Line Rating: 8-20lb The LEVANTE ENFORCER is designed to dominate deep, clear water situations. With an extended rear grip for improved leverage and ergonomics, ENFORCER locks comfortably against your forearm. This is perfect for pulling deep, hard-charging drop-shot fish to the surface; snapping tubes; dragging and hopping bottom baits; and maintaining a braced position to allow for instantaneous, fully-leveraged hooksets. Perfect for the Dark Sleeper, tubes, no-sinker, heavy drop-shot, and heavyweight finesse applications.