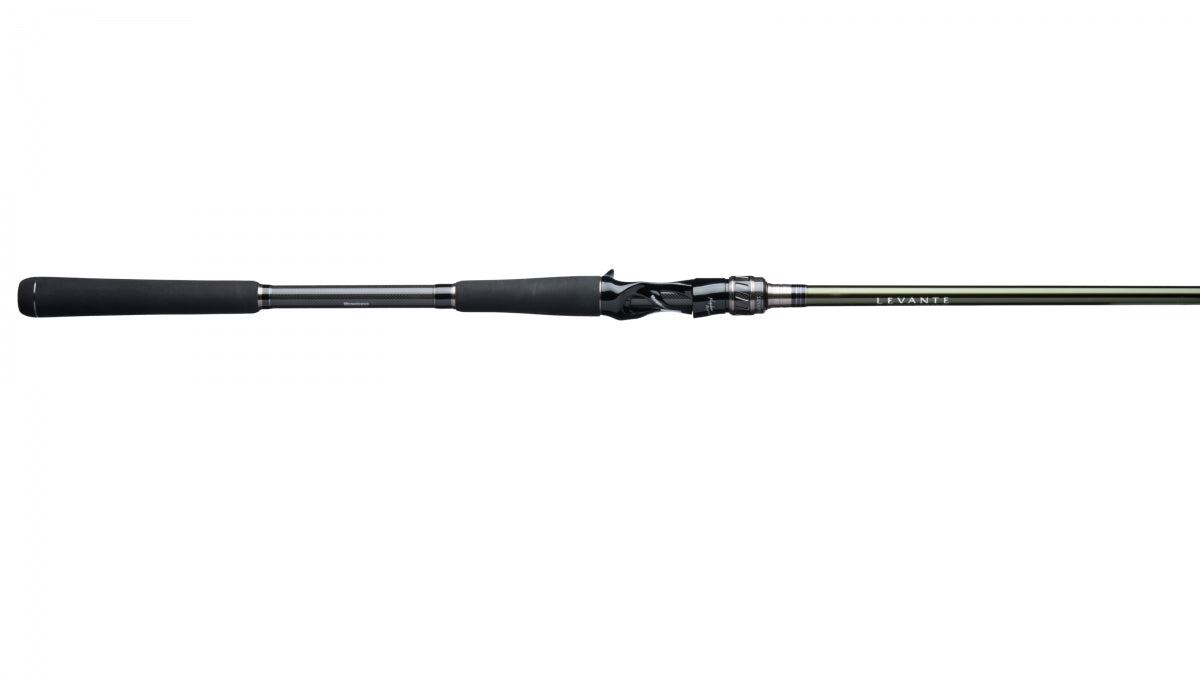 Megabass Levante Casting Rods
Original price
$199.99
-
Original price
$199.99
Completely redesigned for 2019 and further refined in late 2020, the LEVANTE features material, blank, and component upgrades to deliver a new standard of lightweight, balanced power. 12 models cover the needs of discerning anglers, showcasing Megabass' commitment to application-specific design and development in North America. Incorporating refinements to taper, balance point, guide positioning and ergonomics, the LEVANTE evolved through countless hours of testing and invaluable dialogue between customers, pro staff, and the Megabass development team. The result is a more-perfect integration of angler and equipment, allowing for intuitive rod work, sure hooksets, and confidence-inspiring "feel". Featuring upgraded blank material, construction, and Micro Pitch Taping, each LEVANTE is now lighter, more sensitive, and more responsive. Lighter blanks allow for a refinement in balance points, bringing each model closer to its target application. Finished with Fuji® Stainless Steel Alconite guides, custom metal accents, Megabass original Spiral Architect reel seat, hook keeper, and a premium color-shifting finish, the LEVANTE is sure to delight old and new Megabass enthusiasts alike.
 F4.5-611LV JERKBAIT SPECIAL:  Length: 6'11" | Power: 4.5 (Medium) | Taper: Fast | Lure Rating: 3/8oz – 3/4oz | Line Rating: 8-20lb The LEVANTE JERKBAIT SPECIAL is purpose-built to maximize the performance of Megabass jerkbaits like the Vision Oneten and X-80 Trick Darter. Ideal length of 6'11" combined with shortened rear grip allows for easy, balanced cadence and long casts. Fast-taper construction allows for quick and precise transmission of angler input, making your jerkbait come alive in the water. The blank's powerful middle section quickly drives hooks home and keeps surging fish pinned, transferring load smoothly to ensure hard-won jerkbait fish reach the boat. A "must have" model for serious anglers looking to realize the full potential of their Megabass jerkbaits. 
F4.5-70LV FLATSIDE SPECIAL:  Length: 7' | Power: 4.5 (Medium) | Taper: Regular | Lure Rating: 1/4oz – 3/4oz | Line Rating: 8-20lb Tuned for flatside cranks, squarebills, and topwaters, the LEVANTE FLATSIDE SPECIAL has a regular taper for long casts, intuitive and accurate placement, silky load-transfer, and ample power to control the fight. Supple tip section allows for pinpoint roll-casts along target-rich shorelines and lets crankbaits perform to their fullest.  Once load is applied, the entire blank exhibits a smooth bend curve to keep the fish pinned and a strong butt section to apply constant pressure to hard-fighting fish. Don't let the model name fool you—the FLATSIDE SPECIAL is an excellent topwater rod, delivering bombing casts and forgiving action that absorbs the wild head-shakes of topwater beasts. 
F5-72LV DIABLO SPEC-R:  Length: 7'2" | Power: 5 (Medium) | Taper: Fast | Lure Rating: 3/8oz – 3/4oz | Line Rating: 8-20lb Excels in single-hook applications like spinnerbaits, buzzbaits, swim jigs and bladed jigs. The LEVANTE DIABLO SPEC-R's excellent versatility benefits those anglers looking for one rod to cover multiple applications including bottom contact, no sinker soft plastics, topwater and small swimbaits. If you're looking to purchase your first Megabass rod, the DIABLO SPEC-R is often the model we suggest. The second generation is lighter, stronger and more sensitive, tuned for versatility to refine one of the most popular spots within the Levante series.
F5-75LV EMTF:  Length: 7'5" | Power: 5 (Medium) | Taper: Medium-Fast | Lure Rating: 3/8oz – 1oz | Line Rating: 8-20lb The redesigned LEVANTE EMFT receives the same blank treatment applied to the Orochi XX version, expanding the treble hook applications of the original Extreme Mission Type-F and shifting bottom-contact applications to the new BRAILLIST. The EMTF is tuned for more "give" in the mid-section, increasing the hook-up ratio of fast-retrieve treble hook baits like the Vibration-X Ultra and Deep-X series. 7'5" length powers incredible cast-distance to cover large areas quickly and effectively, taking up slack line quickly for positive hooksets. Load transfers quickly and smoothly, drawing from the powerful butt-section to bury hooks at distance and keep targets pinned. An excellent choice for fast-paced treble hook applications like vibration baits and mid-range cranks.
F5.5-75LV BRAILLIST: Length: 7'5" | Power: 5.5 (Medium-Heavy) | Taper: Fast | Lure Rating: 3/8oz – 1oz | Line Rating: 8-20lb The LEVANTE BRAILLIST exhibits pure dedication to bottom-contact applications like Texas rigs, jigs and the revolutionary Dark Sleeper bottom-bouncing swimbait/jig. Precision tip section showcases an optimal blend of sensitivity and stiffness, transmitting bottom contour and composition changes with clarity while exhibiting the requisite muscle to "pop" jigs through gnarly structure. Exceptional bite-detection capability makes BRAILLIST an easy favorite of bottom-contact specialists. Silky-smooth blank load-transfer reduces breakage when downsizing to lighter line. An excellent choice for deep, clear-water fields, and for any angler plumbing the depths. 
F6-70LV TOUR VERSATILE:  Length: 7' | Power: 6 (Medium-Heavy) | Taper: Fast | Lure Rating: 3/8oz – 1oz | Line Rating: 12-25lb With the renewed popularity of bladed jigs and swimbaits and the ever-present need for proper jig and swim jig equipment, the LEVANTE TOUR VERSATILE was built to deliver focused, compact power to maximize the potential of these key applications. At 7' in length, TOUR VERSATILE is poised to strike with devastating speed and power, unleashing compact hooksets that take advantage of tight bite-windows. Power fishermen will enjoy the close-quarters-style combat TOUR VERSATILE encourages in pursuit of kicker fish.
F7-72LV PERFECT PITCH:  Length: 7'2" | Power: 7 (Heavy) | Taper: Extra-Fast | Lure Rating: 3/8oz – 1.2oz | Line Rating: 12-25lb An extremely popular model for hard-core jig anglers, the LEVANTE PERFECT PITCH features a lithe tip section that improves pinpoint roll-cast accuracy and delivers the supple "give" that turns gentle pickup bites into sure hooksets. Often, pickup bites turn into quick drops when fish sense the resistance of an overly-stiff rod tip. The carefully engineered "give" of the PERFECT PITCH opens the bite window for an improved hook-up ratio while providing the requisite muscle to "pop" jigs through the rocks. A strong middle section lends ample power to bury thick-gauge hooks, while the powerful butt section exhausts fish without requiring you to "pump" the rod to maintain control. If pitching and casting jigs are part of your arsenal, then we are confident you will enjoy the undeniable power and effectiveness of the PERFECT PITCH.
F8-710LV AKLYS: Length: 7'10" | Power: 8 (X-Heavy) | Taper: Medium-Fast | Lure Rating: 3/8oz – 1.5oz | Line Rating: 15-30lb Now offered with a two-piece Tactical Grip that allows the blank to be separated from the handle assembly, the LEVANTE AKLYS is built for punching and flipping applications. Mediumfast taper allows for ideal tip-load to deploy punch rigs with devastating accuracy and flip offerings in close quarters. Upon hookset the load transfers to the blank's powerful middle to hammer thick-gauge hooks home, anchored by a dominant butt section that keeps monsters helplessly pinned to the underside of thick punching mats. Ideal rear grip length and counterweight allows for balanced, pendulum-like ergonomics for all-day punching and flipping endurance. 
F10-711LV LEVIATHAN 711: Length: 7'11" | Power: 10 (XX-Heavy) | Taper: Regular | Lure Rating: 2oz – 8oz | Line Rating: 20-40lb With more power, improved taper and refined grip length, the LEVANTE LEVIATHAN 711 is a versatile weapon for big bait anglers. Now offered with a two-piece Tactical Grip, the LEVIATHAN's blank can be separated from the grip assembly for mobile deployment. The new blank draws from an improved power reservoir in the mid and butt section to control heavy baits throughout the cast and retrieve, deliver dizzying hooksets, and overpower trophy-class fish. Longer grip design creates more leverage, while carefully-tuned balance makes rod work easier for lures requiring cadence.