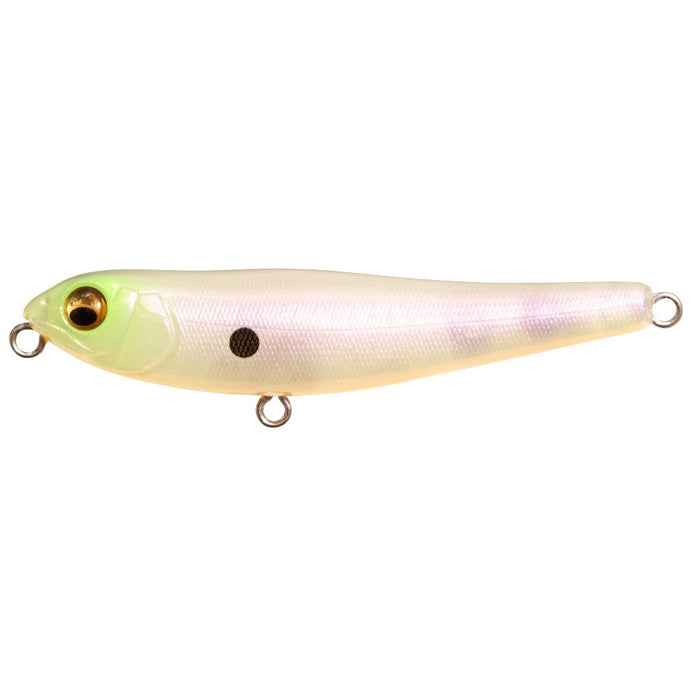 Megabass DOG-X JR COAYU (BFS)
Original price
$15.99
-
Original price
$15.99
DOG-X JR COAYU (BFS)
MSRP: $15.99
Length: 2-3/4in
Weight: 1/5oz
Hooks: #8
The DOG-X JR COAYU is a small baitfish-sized walking bait equipped with Megabass' patented moving balancer systems for unrivaled action. Featuring a SIDE-STEPPING MOVING BALANCER(PAT.) that throws its weight to the left and right to power dynamic, hard-cutting turns, COAYU demonstrates that smaller baits can deliver outsized action. The smooth-sliding action of the DOG-X Jr. COAYU cuts an enticing line across glassy waters, calling predators with mesmerizing cadence and detail. Speed up the retrieve and/or increase the power of each twitch, and COAYU bursts to life with frantic baitfish-like action and appeal. Finished with a tail-mounted lateral moving balancer, COAYU casts with distance and precision and gives off a compelling "click/knock" sound with each twitch.
Rod:
For a more traditional topwater rod pairing, we recommend the DESTROYER P5 F1-63X POPX STICK, which has a very moderate taper to impart the full range of COAYU's action potential. Further, the slower action allows POPX STICK to bend deep to keep targets pinned throughout the fight.

For a modern pistol-grip pairing, we recommend the GREAT HUNTING HUNTSMAN GHBF511-4L, which is perfect for quick draw roll-casts and close-quarters twitch work. With a more supple tip than the POPX STICK, the HUNTSMAN enables finer rod work and showcases the joy of the pistol-grip platform.
Line:
We recommend a braid to leader setup. Leader line diameter will affect lure action, particularly lures in which the angler is responsible for imparting action, like a walking bait or jerkbait. We have found 4-6lb leader material to be optimal for most situations.
Please note: smaller diameter braids paired with light line monofilament are more susceptible to line shear. Test your leader knots before making your first cast and increase line diameter (or switch to more durable fluorocarbon) if you experience shear.