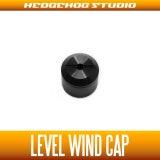 Hedgehog Studio Level Wind Cap Daiwa
Original price
$6.99
-
Original price
$6.99
Description

* Can be used for both left and right handles
 
 Compatibility

<DAIWA>
・ SS AIR
・ SS SV
・ TATULA
・ PX68 Series
・ ALPHAS Series
・ STEEZ Series
・ T3 Series
・ LIBERTO PIXY Series
・ TD ZILLION Series
・ AGGREST Series
・ SALTIST Series
・ TD-Z Series
・ TD-X Series
・ TD-ITO Series
・ U.S.ADVANTAGE Series
・ U.S.TRAIL Series

<Megabass>
・ ZONDA Series
・ IS Series
 
 Instructions for assembly


After removing the side cover plate, remove the level wind screw that fixes the front cover.
Depending on reel model, you may not have to remove the front cover.




After removing the front cover, remove the level wind cap.




There should be a washer found on the inside after removing the stock cap. 
Take that washer out and place it inside of your new custom cap.
Put all parts back together to finish up.