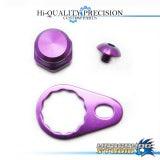 Hedgehog Studio Handle Nut Lock Set - RIGHT
Original price
$20.69
-
Original price
$20.69
This is a set item to fix a handle of DAIWA.
The screw of this version "B-type" is a little bigger than previous version.
And the hexagon socket of the screw head is 2.0mm wide.
(The previous version is 1.5mm.)

* Occasionally the design happens to be slightly changed depending on the production lot.

---
|Compatibility.

---
・SS AIR
・SS SV
・TATULA TYPE-R
・TATULA
・PX TYPE-R
・PX 68
・T3 BALLISTIC
・T3 AIR
・T3 SV
・T3 MX
・T3
・ALPHAS SV
・ALPHAS R-Edition
・ALPHAS FINESSE CUSTOM
・TD ZILLION
・TD ZILLION Coastal
・TD ZILLION HLC, 7.3, P ,H, SH
・LEXA
・AIRD
・EXCELER
・LAGUNA