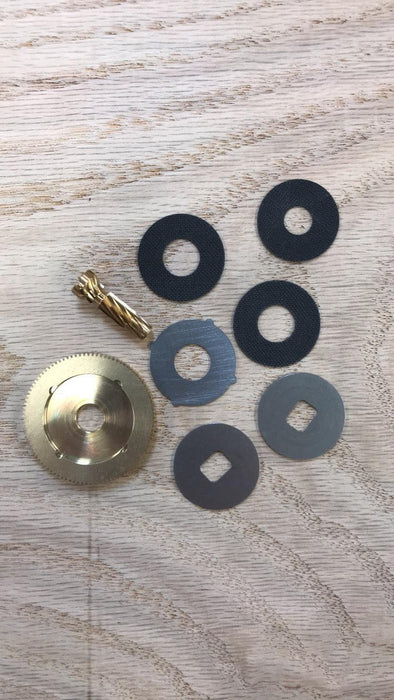 Daiwa Zillion ORIGINAL 8:1 Gear Set Conversion Kit - RIGHT
Original price
$69.99
-
Original price
$69.99
We have put together this conversion kit to take your ORIGINAL Daiwa Zillion to a blazing fast 8:1 gear ratio while adding the smooth, consistent stopping power of Carbontex Drag Washers!  This kit will fit all ratio right hand original Daiwa Zillions - 100PA, 100HA, 100SHA, Deps ZDV, Coastal, 50th Anniversary Limited, Type R, and more.  It will NOT fit any Daiwa Zillion TWS or TWS SV models.  
To properly install the drag set into the Zillion, you need to make it mirror the Steez SV drag stack.  This is the order of the first washer into the gear.
1 - Large hole carbon washer 
2 - Key washer
3 - Large hole carbon washer
4 - Eared washer
5 - Small hole carbon washer 
6 - Thick key washer from the factory drag stack.
INCLUDED in this kit:
1 - Brass Drive Gear
1 - Brass Pinion Gear
1 - Carbontex Drag Washer Set
1 - Key Washer A
1 - Eared Washer
1 - Key Washer B